LEDS GLOBAL PARTNERSHIP FUTURE DIRECTIONS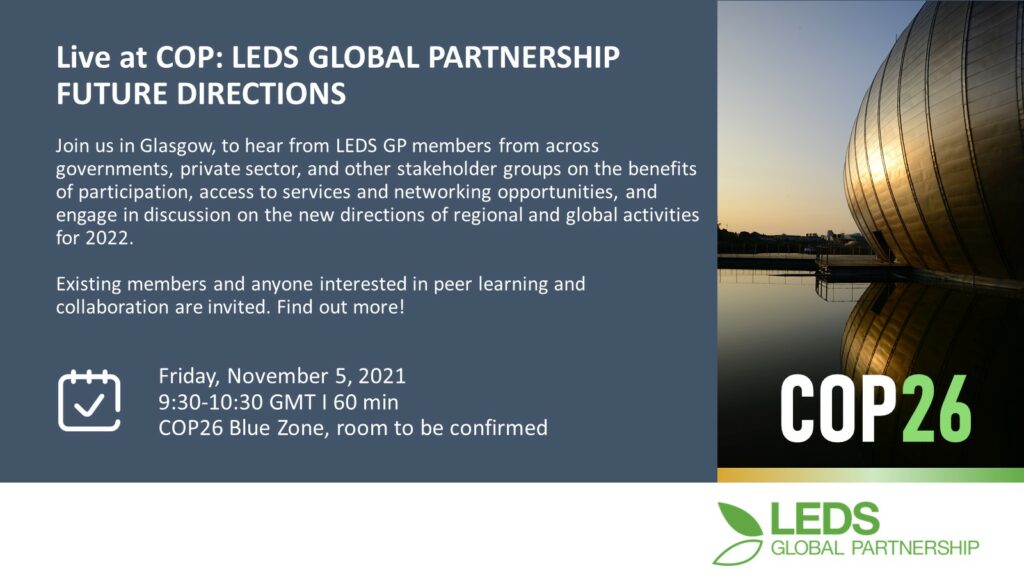 Date/Time: November 5th, 9:30-10:15 am GMT I 45 mins
Location: COP26 Blue Zone; Meeting room 23 – up the escalator on floor 1, across from hall 5
About the event
The Low Emission Development Strategies Global Partnership is pleased to invite you to an interactive meeting where you can learn about this exciting network of leading practitioners from across the world working to accelerate the just transition to climate-resilient, net-zero systems, and engage in discussions on planned priority activities for next year.
At this meeting you will have the opportunity to hear from existing LEDS GP members from across governments, private sector, and other stakeholder groups on the benefits of participation, access to services and networking opportunities, and engage in discussion on the new directions of regional and global activities for 2022.
This is an open meeting for anyone interested in peer learning and collaboration on climate action. However, due to limited seating, we kindly ask you to confirm attendance by November 4th at 12pm GMTby emailing felipe.gomez@giz.de
We hope you can join us and welcome your active participation.
Kind regards from the co-chairs of the LEDS Global Partnerships
II Alexia Kelly, Netflix II
II Rebecca Collyer, European Climate Foundation II
II Francisco Maciel, LEDS LAC Platform II
and from
II Ron Benioff, Executive Director, LEDS GP Secretariat, National Renewable Energy Laboratory II
About the LEDS Global Partnership
Founded in 2011 and currently comprised of over 4,500 practitioners from across the globe engaging on global and regional climate action in Africa, Asia, Latin America, and the Caribbean, the LEDS Global Partnership offers a network for enhancing coordination, accelerating information and peer exchange and fostering collaboration across countries, institutions and practitioners to rapidly scale up climate action globally. Together, practitioners collaborate on solutions in policies, regulatory frameworks, technology, financing, and governance structures on topics of energy, transportation, agriculture, forestry and other land use, and cross-cutting themes such as climate finance and private investment mobilization and green recovery.
---