Prioritization and Structuring of Climate Projects
How can cities develop bankable projects – which are socially and environmentally sustainable as well? Join our public webinar to find out!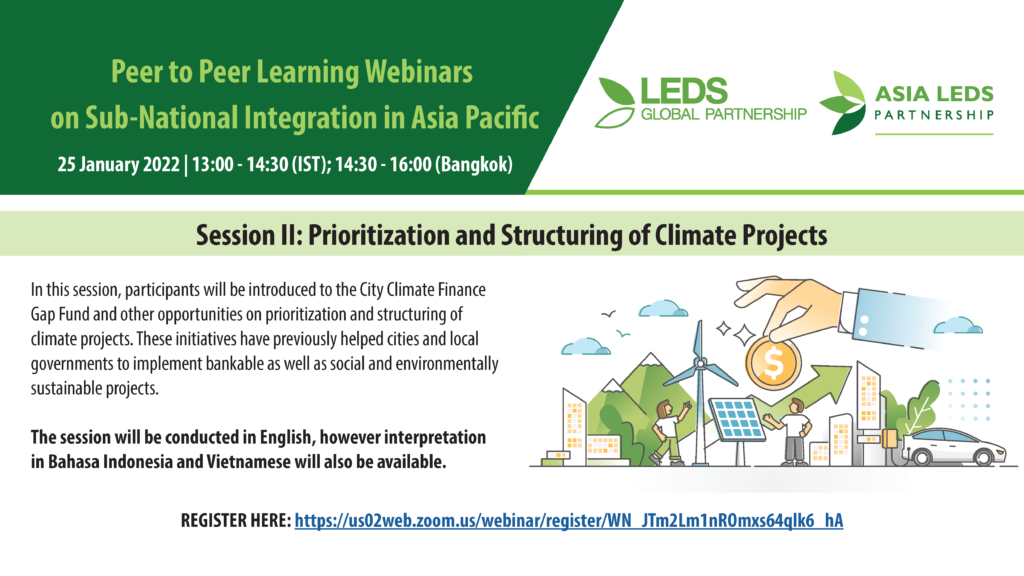 This is the second session in a three-part webinar series focusing on climate action at the local level. You can register for only one session, speakers and participants will be different at each session. Find more information on session three here.
The session will be held on 25 January, 2022
8:30-10:00 (Berlin, CET)
13:00-15:00 (IST)
14:30-16:30 (Bangkok)
Context
The challenge of urban growth and the rising loss of life and damage to life and property due to disasters in cities in the Asia-Pacific region is unprecedented. City governments are hard pressed to provide clean water, sanitation, transportation, power and housing to their millions of residents every day. Further under the devolution of power to local governments, more responsibility has been given to sub-national/local governments to identify development requirements and provide corresponding infrastructure. On one hand city governments need to deliver on projects that address immediate needs such as access to clean water, and road safety management and on another hand on future demands and requirements such as housing, road infrastructure, among others. Adding to this, governments need to address the social and environmental challenges to which cities are subjected to in the light of climate change. There is thus a need for city governments to submit well formulated and bankable investment projects and to demonstrate managerial and technical capacity to ensure project viability.
However, many sub-national governments are not sufficiently equipped to undertake the task of programming and prioritizing strategic climate resilient investments.
The concept note and agenda can be accessed here.