Climate action at the sub-national level – the role and importance of MRV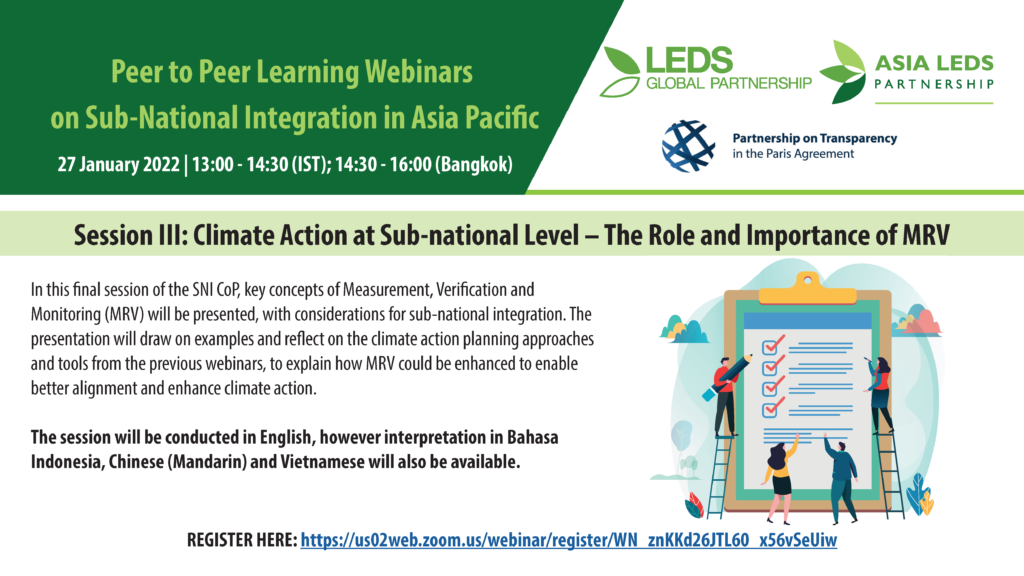 This is the third session in a three-part webinar series focusing on climate action at the local level. You can register for only one session, speakers and participants will be different at each session. Find more information on session two here.
The session will be held on Thursday, 27th of January 2022 at:
8:30-10:00 (Berlin, CET)
13:00-15:00 (IST)
14:30-16:30 (Bangkok)
Context
Climate action from sub-national governments (such as cities, states and regions) is widely recognized as having significant potential to enhance national and international efforts to curb greenhouse gas emissions, close the so-called 'emissions gap' – between current commitments and the action necessary to meet climate targets – and help move the world on to a 1.5°C pathway. This includes measures that sub-national governments can take directly, that can help national governments to implement existing targets faster and more effectively. It also includes wider contributions to climate governance, through the development of new policies and business models at local levels that can accelerate national ambition to support emissions cuts and build resilience. Sub-national governments have also had a key role to place in helping to build political support for more ambitious climate action, with a number of networks and initiatives advocating for sub-national action and support, and the range of guidance, tools and resources now available.
However, whilst sub-national governments can clearly play a role in raising ambition, there can be technical challenges to aligning action at different spatial scales. This includes quantifying, tracking, and reporting actions, as well as making best use of the data and analysis underpinning decision-making at city level and integrating it with national process. The integration of the sub-national and the national level and better communication between the levels is a very important issue but is often neglected, leading to missed opportunities to fully integrate and report actions at sub-national level, double-counting or use of lower quality data, or misaligned plans and policies. Enhancing transparency through robust Monitoring, Reporting and Verification processes can help to improve data quality and reduce reporting burdens, raise ambition and achieve targets more effectively, and streamline actions and accelerate implementation.