The world has lost an inspiring climate champion and dear friend to us all with the passing of the Stephen King'uyu.
---
Stephen has been one of the foremost leaders in the climate change space – for Kenya, Africa and the world. He played a critical role as the coordinator for the National Climate Change Action Plan in Kenya at the Ministry of Environment and Forestry, was a key figure in the UNFCCC processes on the African continent and an exemplary leader within the LEDS community. We remain inspired by Stephen's achievements, convictions, and compassionate and warm embrace of all around him and offer our heartfelt condolences to his family and loved ones.
Stephen served as the co-chair of Steering Committees of the LEDS Global Partnership and the Africa LEDS Partnership. In these roles, he made invaluable contributions to the success of the Partnerships guiding the strategic direction of the activities that resulted in greater access to climate change knowledge and resources to all and accelerated climate action and ambition.
To honor his tremendous contributions to climate compatible development and his passionate leadership of the LEDS GP and Africa LEDS Partnership, Stephen's close friends and colleagues have shared the following moving tributes to his life and work:
---
Esther Wang'ombe, Senior Deputy Director, Renewable Energy, Ministry of Energy, Kenya:
I came to know the late Stephen King'uyu in year 2011 during preparation of the National Climate Change Response Strategy for Kenya. At that time, he used to co-chair most of the meetings and was quite active. After that, I interacted with him in various meetings and workshops pertaining to climate change in Kenya. Stephen was hard working and would thoroughly prepare his presentations. This endeared him to many of his superiors. He played a major role in many African and Global climate change meetings where he used to represent the Ministry of Forestry and Environment.

He was also honest and would not hesitate to correct one if you made a mistake. He mentored many young Kenyans who were building their careers around Climate Change issues. In fact one of the last persons to interact with him was a masters student who had sort his guidance on how to re-write her Thesis the Friday before he passed on the following Saturday. He was also a man of Faith and whenever an opportunity arose, he would talk a lot about God.

Kenya has lost a Climate Change Champion. May his soul rest in peace.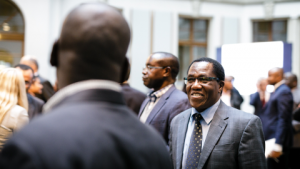 Dr. Charles Mutai, Director Climate Change, Ministry of Environment and Forestry, Kenya:
Stephen King'uyu was humble and a friend to many colleagues in Kenya and across the world who interacted with him in various engagements.  He was always available to give professional advice and input on climate change matters. He was an inspiration and mentor to many.

Stephen actively contributed to the development and implementation of Kenya's climate change frameworks at national and county (sub-national) levels. He also played an important role at the regional and international climate change negotiations, including the UNFCCC Consultative Group of Experts (former co-chair) that assists developing country Parties to fulfil their reporting obligations on climate change actions.

Stephen was the Co-chair of the Africa LEDS Partnerships, and former Co-chair of the LEDS Global Partnerships.

May God rest Stephen's Soul in Eternal Peace!
Dr. Alain Serges Kouadio, Environmental Economist, Director of Green Economy and Social Responsibility, Ministry of Envrionment and Sustainable Development, Côte d'Ivoire:
Today we mourn a great man in the fight against climate change in the world. Stephen, you were a friend and a brother to me and you will forever be remembered as the precursor of our African partnership on low carbon development strategies. We will continue the climate fight by thinking of you so that our vulnerable people can overcome climate challenges.
Ron Benioff, LEDS GP Executive Director:
The world has lost a true hero with the passing of Stephen King'uyu.  Stephen was a passionate and skilled leader who advanced the cause of climate compatible development not only in Africa, but around the world.  He was a constant source of inspiration for all of us with his remarkable devotion to tackling climate change and his compassionate approach and warm embrace for all working on these issues.  Stephen was a key driver in the creation of the LEDS Global Partnership and Africa LEDS Partnership and served with great distinction as co-chair for both the LEDS GP and Africa LEDS Partnership Steering Committees. On top of a very busy schedule, he was always available to offer sage advice and to actively promote the LEDS GP and AfLP activities. We will all miss him deeply.
Caroline Uriarte, LEDS GP Technical Director and Advisor, GIZ:
At the heart of the LEDS GP community are champions: those who are the driving forces for transforming our world to a clean, sustainable and just place. Stephen King´uyu was one of those champions – he was very wise on climate matters, contributing to climate negotiations and policymaking for his country. Not only was he wise, Stephen was willing to guide and enable others to drive climate action. He was always willing to share his knowledge and did so in the most openly and cheerful manner. I met Stephen in 2012 when I joined the LEDS GP secretariat. Stephen was already engaged then in shaping the development of the partnership. I was fortunate to have met and worked with him over the years and will be forever grateful to have had a chance to see his smiles, hear his contagious laughs, and experienced all the joy he transmitted to others.
Ashley Allen, Climate and Land Senior Manager, Mars Inc.:
He was truly a leader among leaders for climate action.  I remember presenting Stephen with the LEDS Global Partnership award a few years ago and recognizing then his long, tireless, and dedicated service to mitigate climate change in Kenya, Africa, and globally. And, in what must have been a hectic, stressful, and sometimes contentious career as an expert and negotiator, never once did I see him without a smile on his face and a warm handshake for everyone. He will be truly missed, and we can all take many lessons from his approach to public service.
Martin Kaspar, European Commission:
I had organized an invitation for Stephen to participate in a climate and development panel at the European Development Days in June 2015 in Brussels. After his great contribution at the panel, a local media worker asked Stephen for an interview (which you can still watch at https://cdkn.org/2015/06/cdkn-at-edds15/ ), but after the interview Stephen got confronted with some unfriendly 'off the record' opinion on Africa. I intervened and apologized later to Stephen by email. He responded in a most gentlemanly way, 'no problem at all'.
Sam Bickersteth, Oxford Martin School:
Stephen was outstanding in his gentle and modest approach while being clear about what needed to be done.  Through both wider CDKN work and LEDS GP it was a special and happy relationship that we held.
Alexander Ochs, Managing Director SD Strategies:
I am extremely saddened by the news. I have known Stephen since long ago. Beyond being a LEDS Champion and outstanding energy and environment expert, he has been a wonderful, warm and witty man. I will not forget his smile. I know I am just one of so many who will miss Stephen very much.
Kelly Levin, World Resources Institute:
This is such incredibly sad news. Indeed, he made such tremendous contributions. I remember him giving such an inspiring speech several years back at your event. I can't believe he is gone.
Dr. Nguyen Thi Dieu Trinh, Senior Official, Dept. of Science, Education, Natural Resources and Environment, Vietnam Ministry of Planning and Investment:
It is really sad for us with this news of the kind and nice man that we always meet in our negotiation time and LEDS work. But I strongly believe in another world, he will smile and be happy to see us the group continue our common endeavor.
Allison Towle, Programme Specialist, Climate Change Bureau for Policy and Programme Support, United Nations Development Programme (UNDP)
We at UNDP were privileged to work with Stephen through the years. He was a warm and knowledgeable leader that helped push for climate ambition and climate justice both within Kenya and beyond. His willingness to share experience and wisdom to help others realize more sustainable and just development will be well remembered, and will help to ensure his legacy continues. Thank you, Stephen, for your leadership, your guidance, and warm and ready smile. Rest well.

---
If you also knew Stephen and would like to add your statements to this note, please contact secretariat@globalclimateactionpartnership.org.